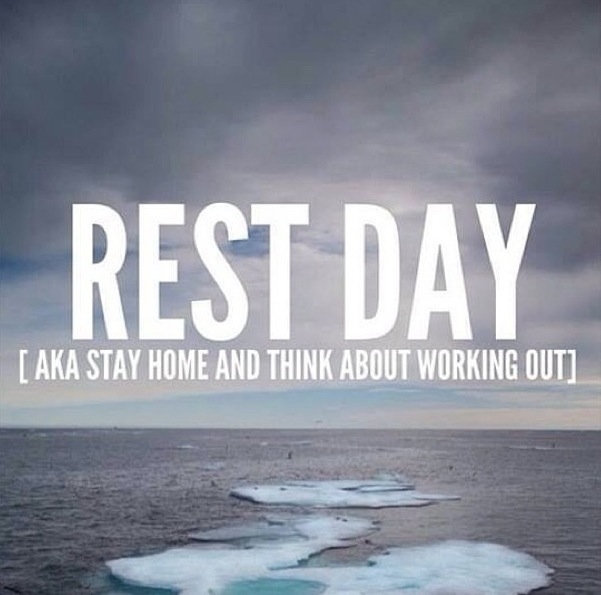 When I first started working out three years ago, I only worked with the trainer two days a week. They didn't even suggest any type of cardio program. Being 350 pounds, they probably thought I was doing good to get in there twice a week. After a few months they started writing cardio workouts for me and gave me new meal plans, which this allowed me to get in there four days a week. Now, a typical week consists of me being at Fitness Together six days a week, and I'm there anywhere between two to three times a day, with Sunday being my only rest day. And for the next eight weeks I'm there four times on Monday and do cardio with my team on Sundays as I compete in a team challenge.
When I saw this quote, because my typical week I do only get one rest day on Sunday, this is exactly what I'm doing! This is the day, not only am I prepping my planned meals, but I also think about all the sessions and cardio workouts for the week. I'm actually going to be checking out a Zumba class a couple nights a week with some of my FT sisters, which I'm excited about.
You're probably wondering, "What was the purpose of her posting this blog?". Well, one I'm very proud of how far I've come in the past three years and what all I'm able to do. But, more importantly, I see other clients become frustrated or discouraged because they feel if they can't get in there as much as I do that they aren't doing good enough. What I want them and others to realize is, I didn't start working out this much in the beginning, I gradually worked my way up to this crazy and intense schedule. The important thing to remember is you need to continue to push yourself as hard as you can and do everything you're capable of doing. You will have days, and even weeks, that your best might seem less than other days. My PR on deadlifts is 265 pounds, but I've had days that I'm not able to get to that weight just because it's one of those days where my body just says not today. Even though the next eight weeks I'm not actually getting a rest day, it is important and okay to have a rest day. And if you're just getting into a fitness routine, it's even okay to have three or four rest days. Just make sure on those days you're at the fitness center you go in there with the intent to kick butt!